The following email was sent out by ColorOfChange.org and re-posted here. This incident and the charges brought against the protester are demonstrative of the reality of the America we are increasingly living in, one in which dissent and opposition to war and violence are criminalized and met with violence and brutality.
---
Tell State Attorney Nelson:
Protect People Not Police!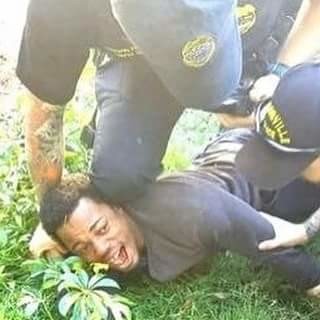 Stand with #JAX5
Dear Caleb:
Freedom of speech is becoming even more of a crime under Trump's reign. This weekend during an anti-Syrian war protest, a Trump supporter antagonized peaceful protesters, storming the speakers' platform and physically assaulting them to start a fight. Instead of helping, four police officers tackled and brutalized the action organizer Connell Crooms, one of a few Black protesters present, and hit him so hard they knocked out his hearing aid. Bystander video footage shows officers beating him while he flailed helplessly and handcuffed on the ground. One officer punched Connell five times while other officers pinned him down.1
Connell was hospitalized and, along with other protesters, charged with inciting a riot and battery on a police officer. The Trump supporter who started the violent confrontation walked away scot free. Pinning bogus police endangerment charges onto protesters is exactly the outcome Trump desired when he introduced his Blue Lives Matter Executive Order in February.2 Trump and his supporters, like the Fraternal Order of Police, are using scare tactics to stifle peaceful protest. But we will not be silenced!
Demand Duval County State Attorney Melissa Nelson drop all charges against the Jacksonville protesters.
What happened to Connell exposes the long-standing intolerance and deep hostility Jacksonville has for protesters. When watching the footage, if it weren't for their uniforms, it would be difficult to even tell the police from counter-protesters because the physical attack on Connell matched the verbal attacks being thrown at him by Trump supporters.
Just a few weeks ago, the city's Sheriff was exposed for using internet software to surveil residents as they exercised their right to protest. Police tracked people using words like "protest" and "Black Lives Matter" on social media. Officers would even go as far as videotaping demonstrations and taking facial pictures of those in attendance. Jacksonville law enforcement appears to have forgotten that peaceful protest is a first amendment right in this country–not a crime. 3
Tell State Attorney Nelson: Protect Florida's right to protest!
Last election cycle, State Attorney Nelson beat out incumbent Last election cycle, State Attorney Nelson beat out incumbent Angela Corey, who sentenced domestic violence victim Marissa Alexander to 20-60 years in prison for firing a warning shot at her abusive ex in a desperate attempt to protect herself and children.4 Corey sentenced Marissa to 20 years in prison, but her case was overturned and Marissa was eventually forced to take a plea deal in order to gain her freedom. By ousting Corey last November, Floridians made it clear that they are tired of Black people being criminalized instead of protected by police. And Nelson must take heed of this message.
Remind State Attorney Nelson that she works for the people, not the police!
Sincerely,
Rashad and the rest of the Color of Change team
---
Reference:
1. "6 arrested, 1 hospitalized after Jacksonville anti-war protest erupts in violence" Jacksonville.com, March 24, 2017
2. "Presidential Executive Order on Preventing Violence Against Federal, State, Tribal, and Local Law Enforcement Officers" White House, February 9, 2017
3. "Monitoring Dissent: How the Jacksonville Sheriff's Office spied on protesters" Jacksonville, March 24, 2017
4. "Florida woman in 'warning shot' case released from jail" Reutuers, January 27, 2017
---
Color Of Change is building a movement to elevate the voices of Black folks and our allies, and win real social and political change. Help keep our movement strong.